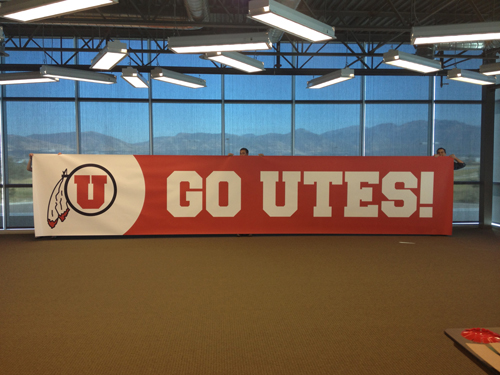 SALT LAKE CITY –– For those of you who aren't aware, the holy war between the Cougars and the Utes is kind of a big deal around here.
In fact, as one of the top 10 college football rivalries in the country, it's kind of a big deal everywhere.
Because the schools are so close in proximity, pranks between schools, students, and fans are rampant. This year, Utah-based Signs.com got to play a small part in one of the big ones.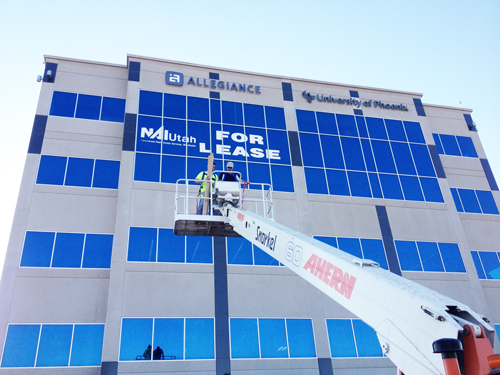 Nelson James, COO of Signs.com is good friends with both Brock Blake, CEO of Lendio and BYU fanatic, as well as Ute obsessed Alex Lawrence, Vice Provost of Weber State University. Both are fantastic human beings and great business people, but when it comes to fandom, both seem to turn into brutish demons.
These two guys have been going at it for years. The red and blue hysterics have spread through painting offices, vandalizing jaguars, laying sod in commercial office space, and bringing in goats to graze on the sod.
Earlier this week, James got a call from Alex asking for a bid to install a 6 foot by 30 foot sign on the outside of Brock's 4th floor office (conveniently located just off of I-15 in South Jordan) that read "Go Utes".
James was in.
"When we started making the sign, it caused a bit of ruckus in our production facility ('what kind of garbage is this?')", James said. "Then over the next 48 hours I received several calls and texts from a very hostile Alex asking if I was a double agent. Was he thinking I would print off a BYU sign and install it instead? Clever idea, but Brock never called."
What do you think of the prank?
More on NewsUtah.org...